Font Generator
Welcome to our website Fonts99 Fonts are very important in this modern world fonts are styles of text. People use fancy fonts to attract people to something special words. Our website fonts 99 is very the best font generator. Our website provides more than 100+ different types of fonts for free you can use this font generator website for different things if you shear any text with a different font style so they really like it. And it looks very cool and attractive from our regular fonts. Many people use these fonts on their Instagram profile bio.
This is because people want to attract others and it looks very cool. This website is made with Html, CSS and JavaScript. Our website never stores any data or activity. That you do on our website. So don't worry any changing any text font style. And our font generator website adds different types of emojis and styles to make your font more attractive and cool. If you like our website so you can shear with our website with your friends and family.
How to use Fancy Text Generator
This is a very easy-to-use font generator website. You need to follow some steps. Open our website and you see the input text box and write anything. You want to change their font style. Our website Immediately converts your text into different types of font styles. If you don't like any font style you click on load more. Website makes 5 more difficult types of fonts. If you are not satisfied with this so you again click on load more. Our website generates 5 more fonts again and again.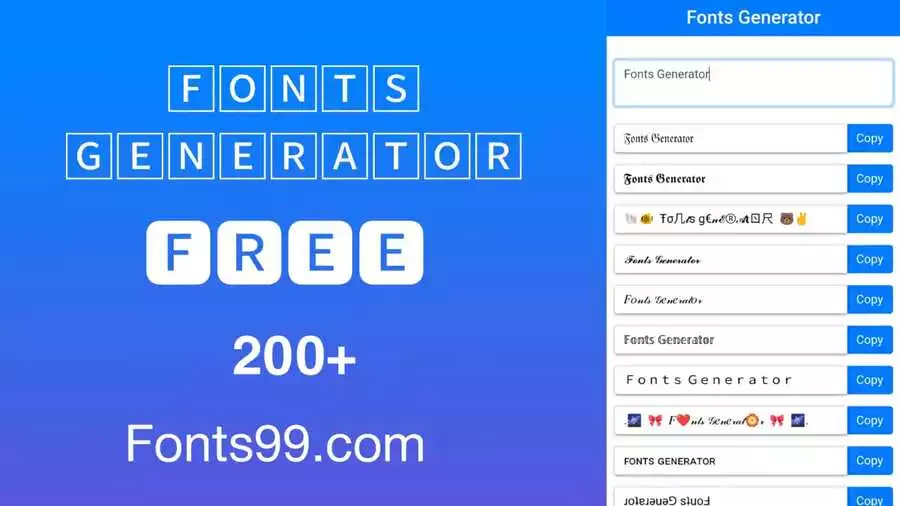 To copy the text you need to click on the copy button on the right side of your fonts. Your favourite font style is automatically copied now you only need to paste the font where you want.
Font Generator for Instagram and Whatsapp
If you want to make your social media profile bio more cool from others. so you need to use our fonts generator online. It will make your bio more attractive and cool. Not only on Instagram you can also use this on your other social media apps such as WhatsApp, Twitter, Facebook and Snapchat. Some websites do not allow fancy fonts but don't worry more than on 99% of websites our fonts work very well.